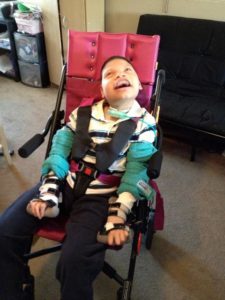 Vinnie is a sweet boy with significant disabilities. Due to medical issues, Vinnie is no longer able to attend school. He lives in a second floor walkup apartment with his mom.
Although his mom was able to carry Vinnie up and down the stairs, she wasn't able to carry the wheelchair. Because of this, Vinnie was no longer able to get out of his apartment.
The Foundation heard about Vinnie from one of his nurses. The specialized stroller the Foundation provided to Vinnie is lightweight and provides the support Vinnie needs. We are so happy to hear that Vinnie can now get outside his apartment.